Aberdeen: From Fossil Fuels to Renewables
When a city's history, economy and identity is based on fossil fuels, how can it diversify its offering and pave the way to a prosperous future?
Forty years ago, Aberdeen was a modest regional centre with an economy built on fishing, farming and tourism. The discovery of oil reserves off the Scottish coast in the 1970s signalled a shift. The city rapidly transformed from a humble fishing port into one of the world's top five energy cities.
When I was growing up there, almost everybody worked in the fossil fuels industry. Local people spoke proudly of the city's oil-fuelled rise to national and global prominence.
How times change.
There's no doubt now that the climate maelstrom will present new challenges for humanity over the coming decades. We're already beyond the hope of reversing the damage completely, and we'll need smart, future-facing solutions to deal with the fall-out. Climate scientists say that the 2020s will give shape to the crisis our future generations are left with. In other words, we still have time on our side right now. How we use that time matters.
Policymakers, educators and businesses alike accept that the fossil fuels industry is on its last legs, and that Aberdeen's economy will suffer without an effective forward strategy. The moment has come for the city to redefine its identity and ambitions—or watch life become harder for the people that live and work there. Luckily, though, Aberdeen has a plan.
Navigating the shift to renewables
Today, Aberdeen is proactively shifting gears to strengthen and expand its renewables sector—a move that builds on its past energy leadership and leverages its highly-skilled workforce.
In doing so, the city is using foresight to interpret today's signals about the climate crisis and anticipating and mitigating against problems further down the line. If it were to ignore these signals and continue its fossil fuels focus, Aberdeen could quickly find itself on the path to an undesirable future. Instead, it is creating another possibility.
Lynn Mutch is an investment executive at Invest Aberdeen, a publicly-funded body to attract business, opportunities and capital to the city and its surrounding region. She says:
"Stakeholders in Aberdeen recognised many years ago that diversification and investment in alternate technologies and energy transition had to be a priority. Public and private partners have worked together to bring new opportunities to the region, including projects that are actively pushing the boundaries and testing emerging tech for the offshore wind sector. On hydrogen, we're moving from pilot projects to commercialisation with plans for a bulk hub to ensure our net zero goals are reached. It will allow skills and expertise from the existing industry to develop and help catalyse change too."
Aberdeen will be at the centre of a new "energy transition zone" launching later in 2020. The zone aims to ramp up delivery of solutions to establish a stronger local economy focused on offshore wind, hydrogen, and carbon capture usage and storage. As the sector thrives, Aberdeen's reputation will shift. What will it be known for next?
Aligning goals and stakeholders
What's perhaps most impressive about Aberdeen's progress to date is the way it's engaged a breadth of stakeholders around plans for the city's future. Considerable public and private sector effort has gone into creating a forward vision of a smart, low-carbon city—and making sure it's a goal that everybody can get on board with.
Energy Cities is a European network of 1,000 local governments in 30 countries, which collaborate and knowledge-share with the goal of accelerating their transitions to efficient and renewable energy. Alix Bolle, the organisation's EU policy manager, believes that Aberdeen's collaborative approach is paving the way for success. She says:
"Success is never a matter of focusing narrowly on one type of stakeholder; it's about working with all of them. The cities making the most progress in navigating the transition from fossil fuels to renewables are the ones that have managed to rally strong alliances of stakeholders around them—from academic institutions to social housing associations, industry representatives, cooperatives, citizens, municipal institutions, and many more. Of course, if I had to point to one set of stakeholders that are most important, it's the citizens. They have to participate in the process. But engaging a breadth of stakeholders, that collaborative approach, is truly the crucial part."
Powering Aberdeen, initiated by the local council, is a clear example. It brings together councillors, businesses, residents and others to shape a sustainable and resilient urban future. It also emphasises the opportunity to lead by example in terms of developing and adopting solutions on the city level. The renewables sector has been earmarked as a priority in Aberdeen's economic development, and the city is actively working to accelerate the pace of change.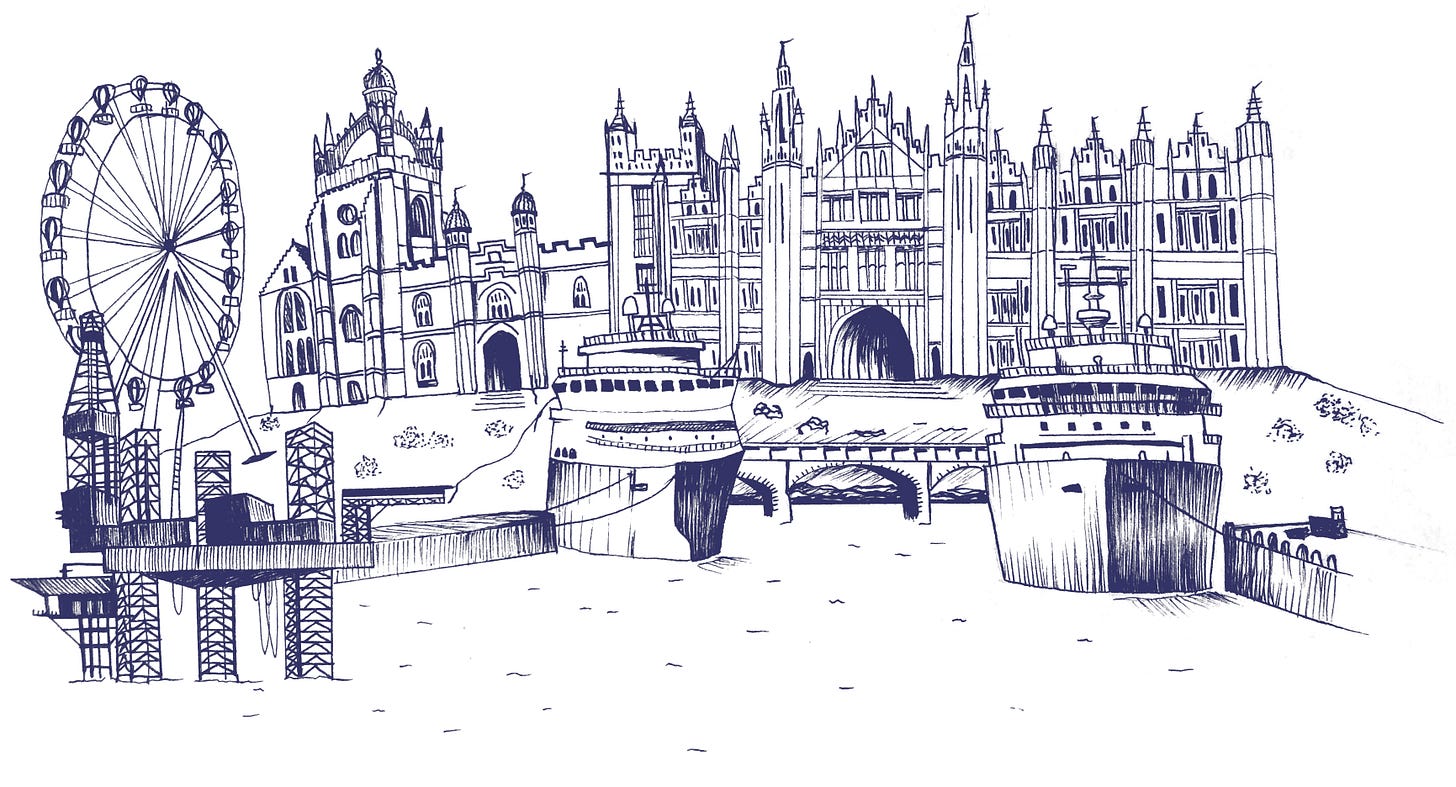 Challenges, collaboration and creativity
This alignment of different players in Aberdeen is impressive, and achieving this alignment is key—globally to overcome the big problems and locally in the city to ensure buy-in and co-creation of the future from real people. Aberdeen's forward-thinking, multi-stakeholder attempt has resulted in a bold effort that strikes the balance well, offering useful lessons for other cities seeking to decarbonise and refocus their energy sectors.
In locations across the world, however, many cities face an unavoidable barrier to achieving their desired outcomes: the nation-state. Too often, decision-making powers on energy are concentrated within national governments, leaving cities with little control over the crucial decisions that affect them. Cities' efforts to accelerate their transitions or be more ambitious and creative in how they solve problems are often stilted because of this paradigm.
As Aberdeen looks towards its next steps on energy transition, policymakers will face the difficulty of having no control over wider infrastructure planning. As the national government decides when to add or remove subsidies based on the political winds of the day, Aberdeen's opportunities will shrink and expand in response.
The realities of not being able to determine the size and terms of the budget it's allocated will also loom large. But factors like these also provide an incentive to collaborate with and learn from how other cities have navigated these challenges. And, after all, sometimes designing within restrictions produces the best ideas and solutions.
---
As always, thank you to Lauren Razavi for her research and editorial support, and to Robyn Johnston for her illustrations.
If you enjoyed this story, sign up below to receive the rest of our Future Cities Scotland series straight to your inbox:
---
An inside look at Nile's futures practice
Our practice director Neil Collman recently ran a "Goodbye Faster Horses" session on Pragmatic Futurism for Today's Designers — a look at how we run our futures practice at Nile. View the presentation on Slideshare or watch the Zoom recording below.